7:00 pm, Wednesday, February 8, 2012
Umble Center
"The Big Story" - Ted Swartz and Company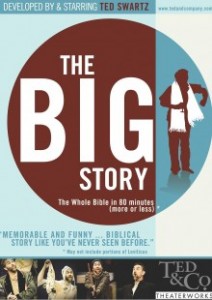 This dramatic, one-man show, starring Ted Swartz, combines scripture, story, and humor. Ted is a theologian of a different sort. Both theater and seminary trained, he has found a unique and entertaining discovery; at the intersection of humor and biblical story is often a greater understanding of the text. Or, at the very least, a different understanding. It?s ?comedic exegesis.? When we allow ourselves to laugh, we open up the possibility of experiencing God?s grace and accepting the truth of our lives more courageously. In this show, Ted brings biblical characters to life in unexpected and entertaining ways.
Tickets for this show cost $5 for individual tickets or $10 for the whole family. Youth group discount available for this particular show. Tickets will be available to purchase through the Goshen College Welcome Center beginning Jan. 9. Call (574) 535-7566 or email welcomecenter@goshen.edu. Tickets will also be available at the door of each show.
All profits from ticket sales will go to The Window, a non-profit organization in Goshen that helps meet the basic needs of those with low income.
Contact: Bob Yoder, campus pastor, phone 7542, email robertey@goshen.edu
See also: For more information about Ted's other activities this visit: