7:30 pm, Sunday, January 26, 2014
Church-Chapel
"Learning to Play" by Ted & Co.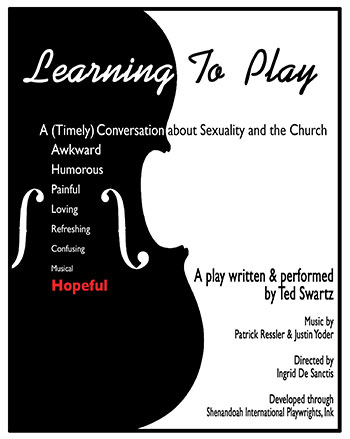 Ted & Company TheaterWorks will debut a new performance, titled "Learning to Play," in the Goshen College Church-Chapel on Sunday, Jan. 26 at 7:30 p.m. The hour-long performance is free and open to the public, with a free-will offering to help cover expenses.
In "Learning to Play," Ted Swartz uses his distinctive humor to give voice to our fears and hopes when a faith community engages in questions around sexuality and same-sex relationships. It's about a father's journey, a church's struggle and a search for commonality.
The show features live, original music by recent Goshen College graduates Justin Yoder ('13) and Patrick Ressler ('11). The music becomes a secondary character, with the voice of the son heard solely through the sounds of Yoder's cello. Both Yoder and Ressler collaborated with Swartz on the composition, which becomes part of the conversation and draws heavily on the Mennonite hymn-singing tradition.
See also: News release