7:00 pm, Wednesday, November 7, 2012
Administration Building Room 28
Eric Yake Kenagy Visiting Artist Lecture: "Cosmic Wanderlust" by Michiko Itatani, painting & drawing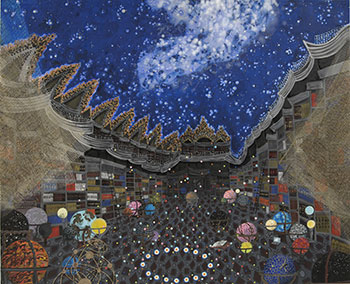 Born in Japan, artist Michiko Itatani lives and works in Chicago as a professor at The School of the Art Institute of Chicago. She is the Goshen College Art Department's 2012 Eric Yake Kenagy Visiting Artist and will offer a public lecture, "Cosmic Wanderlust," in the Administration Building Room 28 on Wednesday, Nov. 7 at 7 p.m., with a reception following in the Music Center's Hershberger Art Gallery. The exhibit will be on display from Nov. 7 to Jan. 13. The presentation and exhibit are free and open to the public.
Itatani's process of art-making starts with gathering various fragments from experiences, events, documents, literature, history, science, myths and customs. These fragments are then cataloged and mutated to make images. It is an act of fusing research, observation, memory and imagination. Her exhibit features small scale, beautifully painted views of Baroque interiors with cosmic elements.
The Eric Yake Kenagy Visiting Artist Program honors the late Eric Yake Kenagy, who was a gifted ceramics student at Goshen College from 1984 until his death in 1986.
Contact: Marjorie Brandeberry, phone 574-535-7400, email margemb@goshen.edu
See also: Michiko Itatani's website