2:00 pm, Sunday, March 24, 2013
Union and Welcome Center
Union Building Community Fair and Open House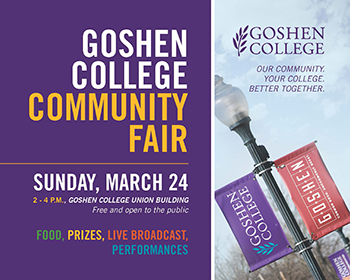 On Sunday, March 24 from 2-4 p.m., Goshen College will be holding an Open House to share the renovated spaces within the Union building. Highlighting the new Welcome Center, the newly created Center for Intercultural and International Education and the revamped, but dear old friend, WGCS "The Globe" radio station.

Guests will have the opportunity to win prizes, including an iPad mini, Performing Arts Series tickets, College Cabin full-day Rental, 10-punch pass to the Goshen College Rec-Fitness Center, 24-hour getaway at Merry Lea in Wolf Lake, Indiana, Lunch and Learn series tickets, Music Together class for your child, Lifelong Learning Institute course registration and more!

Other highlights of the open house include student performances, a live broadcast of the best college radio station in the nation, 91.1 The Globe, and food provided by AVI Fresh.

The emphasis is on making the point that we are Goshen's college! "Our Community, Your College, Better Together"
Contact: Mary Ann Bean, phone 7564, email maryannb@goshen.edu