7:30 pm, Saturday, September 17, 2011
Sauder Concert Hall, GC Music Center
Euclid String Quartet Recital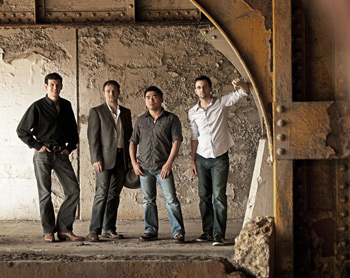 The Euclid String Quartet, award-winning chamber ensemble and quartet-in-residence at Indiana University-South Bend, will present a concert in Sauder Concert Hall on Saturday, September 17 at 7:30 p.m. The program will include Haydn?s String Quartet in B-flat Major, Op. 71 No. 1; Dvorák?s ?American? Quartet in F Major, Op. 96; and New York-based composer Patrick Zimmerli?s ?American Spiritual? for String Quartet.
The ensemble will also hold a free public master class at 4 p.m. in the Goshen College Music Center, with Euclid coaching the Youth Honors Orchestra String Quartet. These events are presented and funded in part by the Lon and Kathryn Sherer Preparatory Music Endowment.
The Euclid Quartet is a dynamic ensemble known for performances filled with personality and vibrant color. Originally from the U.S., Great Britain, Venezuela, and China, they have won many prizes at major competitions around the world, and hold the prestigious Quartet Residency at Indiana University South Bend. The Pittsburgh Tribune-Review raved: ?The impressiveness of the Euclid Quartet extended to all the styles ? [Their] emotional and timbral richness? brought to mind the old-world approach of the Guarneri Quartet? devoted, expert and exhilarating.? Ara Guzelimian, Artistic Advisor of Carnegie Hall, praised their ?wonderful intensity, insight, and communicative strength.?
Cost: $7 adults, $5 seniors/students, available at the door one hour before the recital. GC faculty, staff and students are free with valid ID.
Contact: Deb Kauffman, phone 574-535-7907, email deblk@goshen.edu