8:00 pm, Saturday, February 15, 2014
Umble Center
Winter One Acts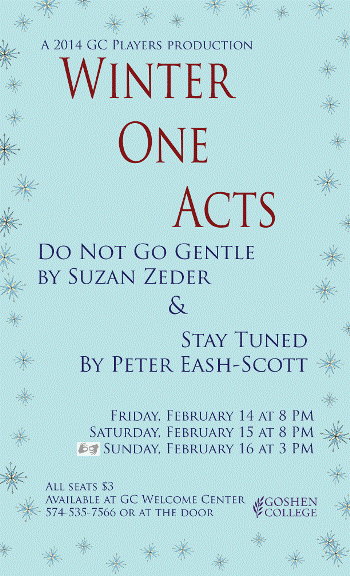 Stay Tuned
is a story about being present. This Peace Play illuminates the incessant bombardment of external voices in our daily lives and how it affects our relationships.
Stay Tuned
points a snarky finger at the media and marketing that constantly vie for our attention, and how these voices manifest in our daily lives. Follow characters Ashley, Jamal, Trish and Chris as they navigate a routine trip to the drugstore that quickly turns out to be more than they bargained for. To paraphrase playwright Peter Eash-Scott: can we come to terms with the noise that is inescapable in our daily lives? Is it possible to find peace in the din of the 21st century?
Do Not Go Gentle by Susan Zeder "Lillian Boedecker Barron is 84 years old, vibrant, funny, wise, and recently deceased! During her lifetime, Lillian shared a special, long-distance bond with her granddaughter, Kelly, and suffered an estrangement from her son Windsor, a Colonel in the Air Force, as he moved his family from base to base all over the world. After her death, Lillian discovers that she cannot "move on" until the rifts are somehow mended. Windsor and Kelly come from overseas to settle Lillian's affairs and are aghast to discover that the walls of her house have been painted with wild, sometimes humorous, sometimes horrific murals and drawings. As they unravel secrets of the paintings, the two make astonishing discoveries about themselves and a special relationship between Lillian and a neighborhood child. This powerful, poignant play explores the wonder of words and the transformative power of art as it offers humor and hope to anyone who is, or has ever been, a grandparent, parent, or a child."
Contact: Sandy Slabaugh, phone (574) 535-7061, email sandys@goshen.edu