4:00 pm, Saturday, October 5, 2013
Umble Theater
Gadfly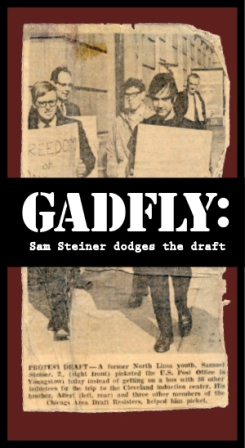 GADFLY: Sam Steiner Dodges the Draft
Gadfly
captures the life and times of Goshen in the late 60's; the struggle, the rebellion, the political turmoil and the music! Don't miss this theatrical performance that captures the story of "Menno-pause" and the students whose stories shaped not only a generation; but our college and our church!
The play will be presented by the original cast from Theatre of the Beat and a live band from Conrad Grebel University College in Waterloo providing a soundtrack from the Gram Parson's 'song book'. Special guests at the production will be Sam and Sue (Clemmer) Steiner.
Based on the true story of a Mennonite rebel, his underground newspaper and the war that drove him to Canada, Sam Steiner seeks to find the balance between his conservative Mennonite upbringing and the political realities of the day.
Commissioned by Conrad Grebel University College and the Mennonite Historical Society of Ontario.
Warning: GADFLY includes strong language and a gunshot sound effect.
Just two performances on Friday, October 4 at 8:00 and Saturday, October 5 at 4:00 p.m. in Umble Center. Tickets are reserved seating ($10 general and $5 students/seniors/GC employees) and are available at the GC Welcome Center or at the door an hour before each performance.
Contact: Sandy Slabaugh, phone 7061, email sandys@goshen.edu