10:00 am, Wednesday, October 23, 2019
Church-Chapel
Convo: "The Dispossessed," with photographer Wayne Martin Belger.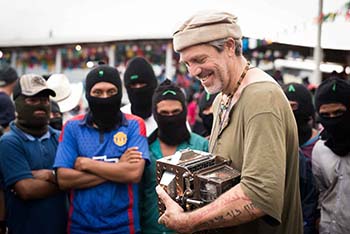 Wayne Martin Belger is the 2019-20 Eric Yake Kenagy Visiting Artist at Goshen College, October 22 and 23, 2019.
Wayne is an unusual combination of photographer and sculptor who brings a strong social consciousness to his artwork. He works in series - for example: his 'Untouchable' series focuses on people who are HIV positive. Wayne begins each project with a one of a kind sculpture that also functions as a camera. Because the camera is an expression of both Wayne's values and creativity, it acts as his introduction to his subjects. The resulting photographs are much more a collaborative process than traditional photography.
Wayne will speak at convocation on Wednesday, October 23 at 10:00 a.m. in the Goshen College Church-Chapel. This event is free and open to the public.
Wayne will also present a public lecture on Tuesday evening, October 22 at 7:00 p.m. in the Umble Center auditorium, with a reception to follow.
Contact: Duane Sherer Stoltzfus, phone 7745, email dstoltzfus@goshen.edu