10:00 am, Friday, October 27, 2017
Umble Center
Convocation: "Building a Healthy Religiously Diverse Democracy: Notes for Interfaith Leaders," with Eboo Patel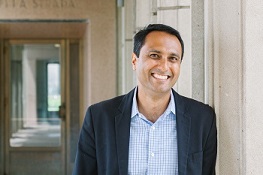 Eboo Patel is a leading voice in the movement for interfaith cooperation and the Founder and President of Interfaith Youth Core (IFYC), a national nonprofit working to make interfaith cooperation a social norm.
He is the author of "Acts of Faith," "Sacred Ground," and "Interfaith Leadership." Named by US News & World Report as one of America's Best Leaders of 2009, Eboo served on President Obama's Inaugural Faith Council. He is a regular contributor to the public conversation around religion in America and a frequent speaker on the topic of religious pluralism.
He holds a doctorate in the sociology of religion from Oxford University, where he studied on a Rhodes scholarship. For over fifteen years, Eboo has worked with governments, social sector organizations, and college and university campuses to help realize a future where religion is a bridge of cooperation rather than a barrier of division.
Contact: Duane Sherer Stoltzfus, phone (574) 535-7745, email dstoltzfus@goshen.edu
See also: Link to Fri morning lecture in case you missed it!