Tell a friend
...about what you read on the Goshen College website.


Sunday, September 22, 2019 through November 10, 2019
Hershberger Art Gallery
Abner Hershberger: the New York Exhibit | Gallery Exhbit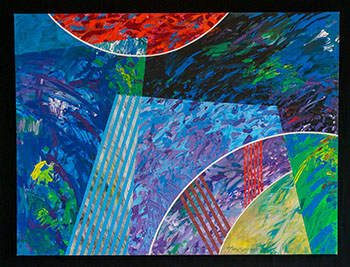 With work that is reminiscent of abstract expressionists Mark Rothko and Hans Hoffman, Abner Hershberger has often reflected the Midwest landscapes he encountered while plowing fields during his youth in North Dakota. In a family headed by a preaching deacon, and one of ten children, her found that learning to communicate was a lesson to be learned. He likens his work to a bird's eye (or crop dusting pilot's) eye view of the land that he circled in his John Deere tractor - creating shapes in the land.
Abner Hershberger: the New York Exhibit is a collection of paintings that has recently been on display in a one-person show in New York City at the National Art Club's Gregg Gallery. That show opened on March 4, 2019, Hersberger's 85th birthday.
Abner Hershberger: the New York Exhibit will be on display in the gallery that carries his name from September 22 to November 10, 2019. A reception and Artist Talk will be held on Saturday, October 6, during Goshen College's Homecoming celebration. (see related event)
The Hershberger Art Gallery is open weekdays from 9:00 a.m. to 5:00 p.m., and weekends 2:00 to 4:00 p.m. during the academic school year. Located within the Goshen College Music Center, the gallery will be closed during academic holidays.
Contact: Veronica J Berkey, phone 7400, email vberkey@goshen.edu