7:00 pm, Friday, February 10, 2012
The Goshen Theater, 216 S. Main St., Goshen
Ted Swartz & Company - "I'd Like to Buy an Enemy"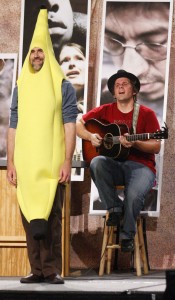 A hilarious and poignant satire that explores peace, justice, and the American way. This thought-provoking show allows us to laugh at ourselves,while engaging us to think about the place of the US in the world, to confront the fear that is such a large part of our culture, and to consider how we can work for peace and justice in this country and in the world.
Tickets for this show cost $5 for individual tickets or $10 for the whole family. Tickets will be available to purchase through the Goshen College Welcome Center beginning Jan. 9. Call (574) 535-7566 or email welcomecenter@goshen.edu. Tickets will also be available at the door of each show.
All profits from ticket sales will go to The Window, a non-profit organization in Goshen that helps meet the basic needs of those with low income.
Contact: Bob Yoder, campus pastor, phone (574) 535-7542, email robertey@goshen.edu
See also: For more information about Ted's other activities this visit: