8:00 pm, Saturday, November 5, 2011
Umble Center
Fall Mainstage: "A View from the Bridge"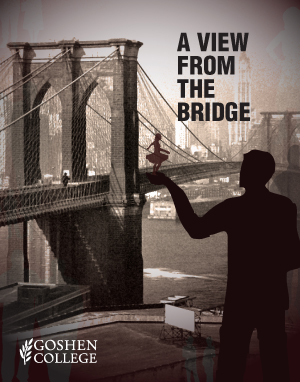 Set in the 1950's, Eddie Carbone, an Italian American longshoreman, lives in Red Hook, Brooklyn, with his wife Beatrice and his niece Catherine. He is a pillar in the community who is devoted to and protective of his family. After his wife's cousins, Marco and Rodolpho, arrive in America illegally, escaping the poverty of Sicily, Eddie's troubles are only beginning. As new immigrant Rodolpho and Catherine fall in love, Eddie's adoration for his niece is no longer touching, and becomes increasingly terrifying. Eddie's love and loyalty for his niece is challenged by his wife and the cousins. Eddie works adamantly to retain his community authority and defend his reputation. Even a visit to Alfieri, the local lawyer, is ineffective in resolving the brewing conflict. When Arthur Miller wrote the play, he recognized that the local power of the community trumps national interests. Classified by critics as a modern tragedy, A View from the Bridge focuses on the domestic world of middle class individuals--both strengths and imperfections. A contemporary New York News critic recognized Miller's play as "an intensely absorbing drama, sure of itself every step of the way. It makes no false moves, wastes no time and has the beauty that comes from directness and simplicity."
Contact: Doug Caskey, phone (574) 535-7393, email douglc@goshen.edu