Calendar
7:30 pm, Sunday, October 30, 2005 @Rieth Recital Hall
Organ Recital: Bradley Lehman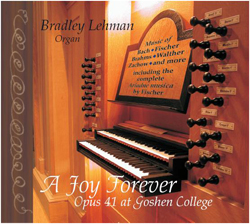 GC alumnus Bradley Lehman will present a concert of organ music on "Opus 41" in Rieth Recital Hall. Lehman, who re-discovered the tuning system attributed to J.S. Bach and used in "Opus 41", will perform his own arrangements of hymn tunes, plus works by Bach, Froberger, Fischer, Brahms, and more. Tickets are $8 for adults, $5 for seniors and students, available at the door. GC students admitted free with ID.
To view the full program for this concert, click here.
Contact: Music Department, phone (574) 535-7361, email music@goshen.edu
See also: Click here to visit the Goshen College Music Center website.