3:00 pm, Sunday, November 17, 2013

Fall Mainstage: WIT by Margaret Edson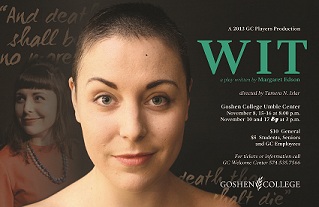 A 1999 Pulitzer Prize winning play, Wit is a compelling story that promulgates the physical, psychological, and emotional journey of Vivian Bearing. An esteemed professor of English, the onset of ovarian cancer shatters Vivian?s professional world of research and scholarship. Suddenly diagnosed with metastatic ovarian cancer, Vivian Bearing is forced to cope with a terminal illness. Categorized as a passionate, demanding, and unforgiving teacher, Vivian?s scholarly studies of John Donne becomes her savior. As a new patient in a world-renowned oncology center, Vivian is aggressively confronted by memories of her past. Using the audience as a window into her soul, Vivian deliberately works to retrieve the fragmented pieces of her life. Vivian, a
pertinaciously erudite
empowered by language and trapped in her elevated reality, learns to appreciate and embrace the seemly mundane world around her. A surprising witty and emotional journey, WIT is sure to be engage one?s humanity and provoke greater thought.
Tickets are reserved seating ($10 general and $5 students/seniors/GC employees) and are available at the GC Welcome Center or at the door an hour before each performance. You may also purchase your tickets on line at: http://www.centerstageticketing.com/sites/goshencollege/
This performance will be American Sign Language Interpreted.
Contact: Sandy Slabaugh, phone 7061, email sandys@goshen.edu