10:00 am, Saturday, March 30, 2019
Welcome Center
Instant Admit Day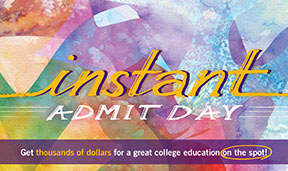 High school seniors: Apply and get admitted on March 30 to receive up to a $16,000 scholarship right away. Plus, find out what further scholarships and grants you are eligible for by attending Goshen College (our average financial aid package is almost $26,000!).
Join us anytime between 10 a.m. - 2 p.m.! No RSVP required. Admissions and financial aid counselors will be available on site to answer questions.
Why else apply on Instant Admit Day?
- It's easy: Just bring along your transcript and ACT or SAT score.
- Get instantly admitted: You'll get an admission decision on the spot.
- No application fee: We'll waive your $25 application fee.
- Win a $500 GC Bookstore voucher: Submit your application materials on campus and be entered to win one of three $500 vouchers.
- Plus, receive your GC T-shirt!
Can't make it to campus? Email your unofficial transcript to admissions@goshen.edu and complete your application on March 30 by midnight to receive your decision about admittance and academic scholarship information within 24 hours.
Contact: Admissions Office, phone 574-535-7535, email admissions@goshen.edu