2:30 pm, Sunday, March 17, 2019
Umble Center
Spring Musical: "Bright Star"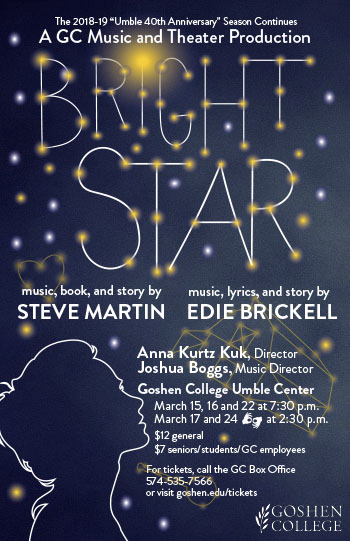 In 1940's North Carolina, literary editor Alice Murphy shares her story of loss, love, and hope. After a chance encounter with a young, aspiring author just home from World War II, she relives the harrowing journey that helped shape her. As the action travels between the 1920's and 40's, Alice works to understand her past, and what she discovers has the power to transform both of their lives. A fictional story inspired by a real event, Bright Star is an uplifting musical journey featuring the Grammy- nominated Americana score by Steve Martin and Edie Brickell.
Contact: Box Office, phone (574) 535-7566, email boxoffice@goshen.edu
See also: Purchase tickets online