Tell a friend
...about what you read on the Goshen College website.


7:30 pm, Saturday, April 28, 2012
Umble Center
Performing Arts Series: Imago Theater - Zoo Zoo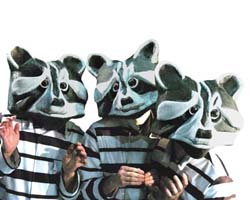 The innovative Imago Theater brings its celebrated Zoo Zoo show to GC's Umble Center. The Portland (Ore.) based company's hit show received rave reviews in its recent two-week run on Broadway. See frogs, polar bears, anteaters, penguins and more in this amazing and hilarious production enjoyed by both children and adults.
Individual tickets are $30/$20/$15, available beginning August 8 at the Goshen College Welcome Center: (574) 535-7566. Tickets are also for sale online.
Contact: Welcome Center, phone (574) 535-7566, email welcomecenter@goshen.edu
See also: Goshen College Music Center