Sunday, September 17, 2023 through November 12, 2023
Hershberger Art Gallery - inside the GC Music Center
a sense of place | Sara Method Exhibit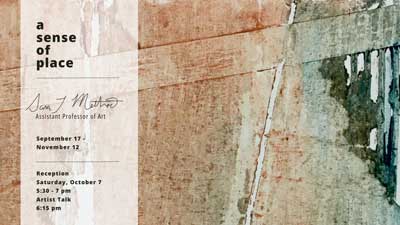 Sara Method is GC's newest art faculty, Assistant Professor of Art. Sara began her time at GC in the fall of 2022, and is currently teaching Printmaking, Drawing, Painting, Digital Design and Advanced Graphic Design.
Sara received her BA in Painting from Salem College, a MA in Art History from the University of Notre Dame, and a MFA in Studio Art from Western Carolina University.
In describing this show, "a sense of place" Sara says, "My work is inspired by divisions and co-existence observed both in nature and in personal histories. As an artist and researcher, my process of making uses drawing, printmaking, narratives, and fibers to explore ideas of our relationship to the natural world and to each other. In particular, I am studying physical and natural boundaries and ways of bridging divides. Some boundaries are apparent, and others must be unearthed in memories and dreams."
The Abner Hershberger Art Gallery is located inside the Goshen College Music Center. It is open Monday through Friday from 9 a.m. to 4:30 p.m., Saturday and Sunday from 2 -4 p.m., later on evenings where events are taking place in the Music Center. The gallery is free and open to the public.
Contact: Veronica J Berkey, phone (574) 535-7400, email vberkey@goshen.edu