Sunday, March 5, 2023 through November 12, 2023
Good Library Gallery
Cabinet of Curiosities 3: Quilts, Clocks, Ceramics, Fraktur . . . : Exhibit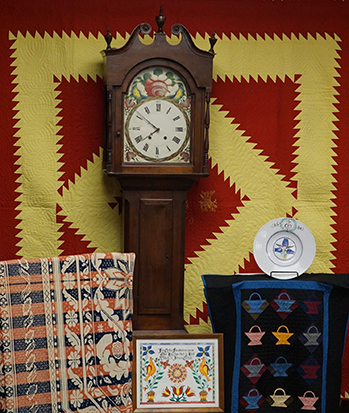 Recent accessions to the Museum Collection exhibited for the first time.
Mennonite and Amish quilts from Pennsylvania and Midwest, clocks from Belleville PA and Ukraine, Hutterite/Habaner and Makkum ceramics, revival Fraktur, Wayne Co. coverlet, Amish figurines, fine art, etc.
Public reception: March 12, 2-4 p.m. with comments on the Kroeger clock from Ukraine at 2:30 by horolgist Arlin Claassen.
TBA Fall 2023: Janneken Smucker (GC '98), Amish quilt expert from Philadelphia, will discuss the quilts in the exhibit.
The exhibit is free and open to the public.
Good Library Gallery is open whenever Good Library is open. See hours online: libraryguides.goshen.edu/hours
Contact: Joe Springer, phone 7421, email mhl@goshen.edu
See also: Good Library Gallery