5:30 pm, Saturday, October 2, 2021
Music Center, Hershberger Art Gallery
Faculty and Retired Faculty Exhibit Homecoming Reception and Artist Talk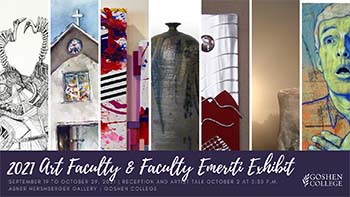 Join members of the current faculty and faculty emeriti as they exhibit and discuss their most recent work on display in the Abner Hershberger Gallery. The reception will begin at 5:30 p.m., with short remarks at 6:15 p.m.. Any and all art alumni in attendance will also be asked to introduce themselves.
Artwork on display is provided by: Merrill Krabill, Randy Horst, John Mishler, Marvin Bartel, John Blosser, Abner Hershberger and Judy Wenig-Horswell. The exhibit will be on display continuously until October 29, 2021.
The Abner Hershberger art gallery is located inside the Goshen College Music Center, which is open weekdays from 9:00 a.m. to 5:00 p.m.. The gallery is available weekends from 2:00 to 4:00 p.m. or during special events. The Music Center will be closed during academic holidays.
At this time, all public buildings and spaces on Goshen College's campus require wearing a face covering to enter.
Contact: Veronica Berkey, phone (574) 535-7400, email vberkey@goshen.edu