Sunday, January 22, 2023 through March 19, 2023
Hershberger Art Gallery - inside the GC Music Center
Inside Voices - Randy Horst Retirement Exhibit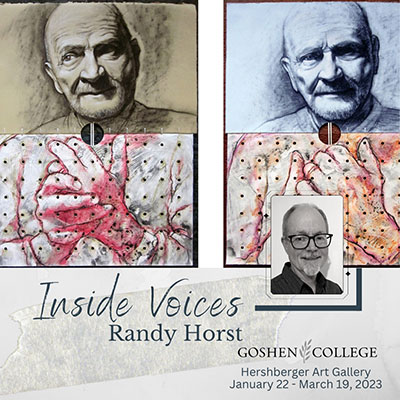 "Inside Voices" is the retirement exhibit of Goshen College professor of art, Randy Horst. On display in the Hershberger Art Gallery (inside the Goshen College Music Center), from Sunday, January 22 until March 19, 2023.
Randy is also a graduate of Goshen College with a BA in Art Education. He received his MFA in Drawing from Bowling Green State University in Ohio. Randy taught art, art history and graphic design classes at Goshen College for 13 years. Prior to Goshen College, Randy also taught art at The University of Montana Western in Dillon, and at Bowling Green State University in Ohio. He has led or co-led educational trips to England, France, Italy, Spain and Morocco.
As an artist, Randy has exhibited his mixed media drawings and collages in regional and national exhibits. His figurative work focuses on exploring the psychological dimensions of religious figures such as Job, Jonah, and Rebecca. He is currently one of four North American artists contributing illustrations to the upcoming Bible celebrating the 500th anniversary of Anabaptism. Randy has also worked as an art director and graphic designer for Goshen College, Mennonite Mutual Aid (now Everence), and Great Harvest Bread Company, as well as for a variety of freelance clients.
The Hershberger Art Gallery is located inside the Goshen College Music Center with ample free parking, and is open weekdays from 9:00 a.m. to 4:00 p.m., and weekends from 2:00 p.m. to 4:00 p.m.. It is also open during special events held in the Music Center. The gallery is closed during academic holidays.
Contact: Veronica J Berkey, phone (574) 535-7400, email vberkey@goshen.edu