4:00 pm, Friday, February 3, 2023
Science Building, room 106
Student summer research: A quad baronium, and new biomaterials from trees. Elise Jantz and Drew Smoker

Summer 2022 research highlights from GC Physics majors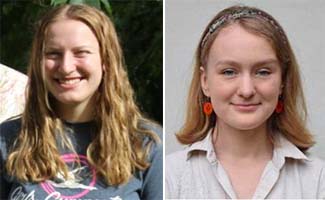 Elise Jantz built hardware and developed software for a "quad baronium". A new electronic music instrument, it's meant to enable musical novices to improvise together in a "Jeeni" ensemble. Elise was a Maple Scholar working with Prof. John Buschert in Goshen.
Cellulose nanocrystals (CNC) derived from wood fiber and other natural sources turn out to be extremely strong. Drew Smoker synthesized and evaluated CNC composite membranes, candidates for membrane-based dehumidification. She was an REU researcher based at the University of Maine.
This lecture is free and open to the public.
Contact: Paul Meyer Reimer, phone 7318, email paulmr@goshen.edu
See also: Goshen College Physics Department